Tips for Getting Hired By Your Dream Company
2020-05-29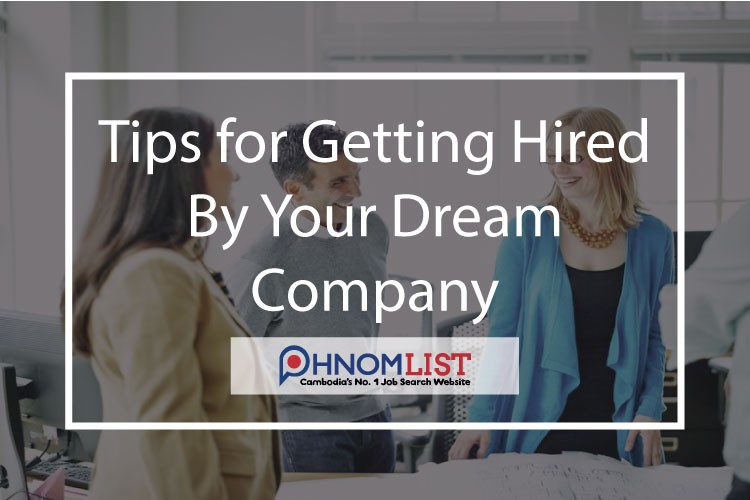 If you have a few companies in mind that you'd really like to work for, make a point of keeping them on your radar — and getting on theirs — even before you start the job application process.
There are several benefits to "tracking" a company for a period of time before you apply. For example, depending on the size of the company, if you follow it on Linkedin or Twitter, "like" their Facebook page, or sign up for their newsletter, they might already recognize your name when it's time to apply.
Researching companies in advance is a good way to learn about the organization, so when it comes time for the interview, you won't have to scramble to do background research.
Instead, you'll be able to speak with genuine interest and enthusiasm, and you'll likely have a well-formed opinion and several compelling anecdotes to share when you're asked something like, "What do you know about this company?" or "What do you see yourself doing in the first 30 days on the job?"
With a wide scope of knowledge about the company's background, you'll also be able to impress your interviewer if he or she asks for your perspective on incidents related to the organization's past, like a new product or project it may have rolled out, or a high-profile issue it may have been involved in. Showing that you've been active and engaged, even as an outsider, bodes well for how you'll perform within the organization.

And, of course, there's the obvious benefit of knowing about open positions before the competition. By staying updated with a company's job listings page, not only will you be among the first to know about new opportunities, but you'll be able to monitor what kind of workers the company is looking for and what type of job you have a good chance of getting.
Once you get a sense of the company's hiring process, you'll be better able to make tactful decisions, like when you should apply or what level of position you should apply for.
Here are some tips for tracking your dream company:
•

Follow the company on social media
. Facebook, Google+, Twitter, Instagram, Tumblr, Pinterest — there are so many social media outlets, and chances are, the company or companies you're after probably have accounts on at least a few of them. Connect with them all and pay attention to their updates. Here's more on how to use social media in your job search.
•

Connect with the company on LinkedIn.
Follow the company on LinkedIn, view who you're connected with at the company and who you can connect with, and check the company LinkedIn page for the latest job postings. Here are guidelines for sending LinkedIn invitations to connect and messages.
•

Look for specific hiring-related accounts.
Some larger companies have individual accounts for hiring purposes; for example, the Huffington Post tweets job openings from @HuffPoJobs. If you scroll down the feed, you'll see a lot of users direct-tweeting questions about opportunities, and getting direct answers. Twitter can be a good way to get in touch with a company's human resources department that might be hard to reach otherwise. Read more on job searching with Twitter.
•

Clean up your act.
If you're going to be interacting with a company on social media, you need to make sure your online presence is professional. Review your social media profiles to make sure there's nothing inappropriate or unbecoming, and check your privacy settings to see who can see what on your page.
•

Bookmark the job openings page.
Most companies have a "Careers" section of their websites set aside just to post job openings. Bookmark these pages and make a habit of checking them periodically.
•

Make a schedule of deadlines and set calendar notifications for yourself.
If your goal is to apply for an annual program like a fellowship, or for a company's summer job openings, keep an Excel document listing all of the important dates and deadlines, and set notifications using an online calendar on your smartphone or computer.
•

Don't be afraid to reach out to the company.
If you have a question — like if a job you've been eyeing has been filled, if the company is looking to fulfill a certain type of position, or how soon you can apply for a seasonal job — don't be afraid to get in touch with the company. Just send a polite and professional email asking your question. Not only will it get the organization's human resources department familiar with your name, but, it's a good illustration of your enthusiasm and interest.